Celtic advance in FAI Junior Cup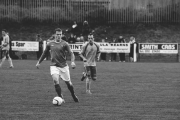 12 November 2017
A goal after just two minutes from Kevin Waters was enough to see Celtic edge past Thurles Town to book a place in the open stage draw of the FAI J ...
Church Gate Collection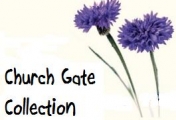 9 November 2017
We hope you can support our church gate collection this weekend at Masses on Saturday night and Sunday morning. Any donations will be muc ...
U13s up and running
5 November 2017
Clonmel Clonmel U13s overcame a half time deficit to run our convincing 5-1 winners against Shanbally Utd yesterday to pick up their firs ...
Celtic drop points
5 November 2017
For the second successive week Clonmel Celtic were involved in an exciting 3-3 draw. Unfortunately this afternoon's draw with Old Bridge was a ...
Youths Spot on
5 November 2017
Clonmel Celtic Youths are through to Round 2 of the Tipperary Cup after a dramatic 5-4 penalty shoot out win against Clonmel Town at the Complex ye ...
U17s impress in Kilkenny
30 October 2017
The result of the weekend came from our Under 17s who progressed to Round 3 of the FAI Cup with an exciting 4-3 win away to Evergreen of Kilkenny. ...
Celtic held
30 October 2017
A point away to Peake Villa would normally be considered a decent recent but with St Michaels in such a strong position in this division it will ha ...
Mixed Weekend for U12s
30 October 2017
Clonmel Celtic Under 12s just came up short in their quest to become the first Celtic Schoolboy team to reach the open draw stages of the SFAI Cup. ...
Tony Bull Smith RIP
30 October 2017
The club would like to offer our sympathy to the family and friends of Tony Bull Smith who sadly passed away on Saturday. Tony was a very popular a ...
Club Draw
26 October 2017
The club section of the FAI National draw took place last night and we would like to congratulate Christopher Ryan who won 2 Premium tickets to a R ...
Celtic advance to Round 4
22 October 2017
In the end it was all about reaching Round 4 of the FAI Junior Cup and not how they got there. Celtic won't be pleased about conceding three go ...
Dick McSharry RIP

16 October 2017
The club was very saddened to hear of the sudden death of Dick McSharry early on Saturday morning. Dick was a former goalkeeper and committee membe ...
Waters hat trick sends Celtic clear
15 October 2017
A Kevin Waters hat trick sees Clonmel Celtic three points clear at the top of the TSDL Premier League this evening. After been pushed all the way b ...
Celts march on!
15 October 2017
Clonmel Celtic Under 12s recorded an impressive 3-0 win against Evergreen of Kilkenny to advance to Round 4 of the SFAI Cup. It was evident early o ...
World Cup Play Off Tickets
12 October 2017
Anyone looking for tickets for Ireland's home game in the World Cup Play off needs to get their order in by 12pm Monday 16th October. We ...
Celtic woolly hats
12 October 2017
We'll be placing an order for Clonmel Celtic hats on Monday. They come in black, one size fits all and are priced €10. If you would like o ...
Celtic made to sweat
8 October 2017
Clonmel Celtic had to battle through a sudden death penalty shoot out to overcome a dogged Glengoole Utd to advance to Round 3 of the Munster Junio ...
A Word from our Sponsors
4 October 2017
Pet Planet
Here are at Pet Planet we have expanded our wild bird care section with the addition of a great new range of feeders and wild ...
Scotland Bound
3 October 2017
More good news on the international front as Clonmel Celtic's David Joyce has been name in Gerry Davis's 20 man Republic of Ireland sq ...
Huge Cup win for Celtic
1 October 2017
Clonmel Celtic were far too strong for Division 3 side Moyglass Utd progressing to Round 3 of the FAI Junior Cup after a huge 11-0 win in a one sid ...
U17s and U12s progress in Cup
1 October 2017
Both Clonmel Celtic U17s and U12s have progressed to the next round of the National Cup this weekend. The Under 17s were involved in an exciting tu ...
New Netting for All Weather
27 September 2017
You may have noticed we have a new dividing net and upper surround net on our All Weather Pitch. The netting was old and torn in many places and wa ...
Non Competitive Leagues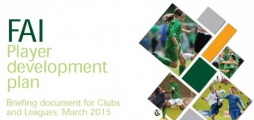 27 September 2017
We would like to share some information with you about the format of the U7-U11 leagues/games that are due to start next month.
In accord ...
Classy Celtic too hot for Tipp
24 September 2017
A Seanie O'Hara hatrick and two stunning strikes from Evan Maguire saw Clonmel Celtic cruise to a 5-1 win against Tipperary Town this afternoon ...
Cup woe for Celtic
23 September 2017
Despite a fighting second half performance Clonmel Celtic were left to rue a sloppy first half as they exited the SFAI U13 Cup going down 3-2 to Ca ...
Derby succes for Celtic
17 September 2017
A Seanie O'Hara goal two minutes into the second half was enough to give Clonmel Celtic all three points on their first visit to Green Lane. Ce ...
Big win for U12s in Carlow
17 September 2017
It was a long time coming but it was definitely worth the wait as the U12s marked their competitive debut in style with a huge 11-0 win away to Han ...
Celtic Hot Shots!!
15 September 2017
A comprehensive list of the 67 players that have scored for Clonmel Celtic since the club was founded in 2003. This season's goals not included ...
McGuire fires Celtic to top spot
10 September 2017
Clonmel Celtic bounced back to winning ways with a comprehensive 5-0 win away to Borris this afternoon. A Niall Prendergast goal had Celtic 1-0 up ...
Home comforts for Celtic
8 September 2017
It's all home draws for Clonmel Celtic Junior and Youth teams in Cup draws made in Dublin and Cork during the week. In the FAI Junior Cup Celti ...
Another call up for Joycey

8 September 2017
David Joyce has been called up to the Republic of Ireland amateur squad for an international tournament in Glasgow next month. Whereas the recent U ...
Carlow opposition for Celtic
5 September 2017
Clonmel Celtic Under 12s and Under 13s will both face Carlow teams later this month in the SFAI Cup. The U13s got the more favourable draw in that ...
Academy Season Kicks Off
5 September 2017
Thankfully the weather was kind to us last Saturday when we had our first Academy session. A very warm welcome to all children joining the club. We ...
Celtic slip up
3 September 2017
A fine strike by Keith Brown on 55 minutes settled a disappointing derby this afternoon as Celtic went down 1-0 to Town. (See Reports). It was a sl ...
FAI National Draw 2017

1 September 2017
Tickets priced €10 are now available for the 2017 FAI National Draw. This is a great fundraiser with the FAI putting up some great prizes (see ...
Training Times for Non Competitive Age Groups
28 August 2017
The following are the training times for our non-competitive age groups for the coming season: Academy (U7 & U8 children born in 2010 and 2011) ...
New Secretary for TSSDL
28 August 2017
Congratulations to our very own Tony Acheson who has been appointed Secretary of the Tipperary South Schoolboys District League.
...
Celtic blitz Tipp
27 August 2017
A brace from David Joyce and stunning strikes from Evan McGuire and Seanie O'Hara were the highlights as Celtic cruised to a 6-2 win away to Ti ...
Opening day win for Celtic
20 August 2017
Celtic just about got the better of Bansha to get their season off to a winning start with a 3-2 this afternoon. All the goals came in th ...
The Big Kick Off
13 August 2017
Fixtures for the opening two league games of the season were published today and Celtic will kick off their season with a home tie against Premier ...
Mallow Cup Review
13 August 2017
Under 12s manager George Hindley's reflections on the Mallow Cup
''A useful preseason workout today in the Mallow Cup. The st ...
Mallow Cup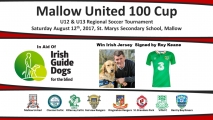 3 August 2017
Clonmel Celtic Under 12s and 13s will take part in an invitational tournament in Mallow next Saturday August 12th. Eight teams throughout Munster w ...
Ladies season ends in disappointment
2 August 2017
Clonmel Celtic Ladies season ended in disappointment as they went down 1-0 to Killenaule in the Tipperary Cup semi final in Ferryhouse last Sunday. ...
No joy in JD Cup
2 August 2017
Clonmel Celtic's poor form in the John Delaney Cup in recent seasons continued with a 5-1 defeat away to Thurles Town yesterday. Evan Maguire s ...
3rd Place Finish for Ladies
20 July 2017
Clonmel Celtic Ladies bounced back from a recent dip in form with two impressive wins in the last week. Last night Dualla came to Clonmel knowing a ...
AGM
14 July 2017
A reminder that Clonmel Celtic's AGM will take place at the club house next Wednesday 19th July at 8pm. All members and supporters are welcome ...
UEFA Regions Cup
11 July 2017
It's been an amazing year for Clonmel Celtic's David Joyce. From making his international debut with the Republic of Ireland amateurs a ...
Season Review (Part 4).
27 June 2017
Our final review of the season looks at our Ladies team and also our off the field activities. As you will be aware it's summer soccer for the ...
Pitch maintenance programme
25 June 2017
Clonmel Celtic has invested a lot over the years in developing a high quality natural playing surface. As a result of this our facilities have been ...
Season Review (Part 3)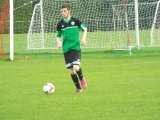 20 June 2017
A top three finish for the eight consecutive season is an impressive level of consistency at Junior level but unfortunately we had no silverware to ...
Joyce collects cap
20 June 2017
Clonmel Celtic's David Joyce collected his international cap at a Republic of Ireland get together at Abbotstown last weekend. The team had t ...
Season Review Part 2
15 June 2017
The Under 12s got the perfect start to competitive football with a 1-0 win away to Peake Villa in the season opener. Unfortunately that was as good ...
Ladies crash!
Clonmel Celtic Ladies recent good run came to a crashing halt as they went down 6-0 away to Shinrone Ladies last night. Without trying to take away ...
15 June 2017
Cup succes for Ladies
10 June 2017
Joint top of the league and in the final of the Shield, Clonmel Celtic Ladies look poised to challenge on three fronts now after a 3-1 win away to ...
TSDL award for Joycie
9 June 2017
The management committee of the TSDL made a presentation to Clonmel Celtic captain David Joyce at their AGM last Tuesday to recognize his amatuer i ...
Season Review Part 1
7 June 2017
It was another enjoyable and successful season in the non competitive age groups (7-11) with a noticeable increase in numbers.
Our Academ ...
Ladies reach final
5 June 2017
Clonmel Celtic Ladies continued their impressive start to the season with a great 4-3 win against Killenaule yesterday that sees them through to th ...
Celtic do the double
3 June 2017
Clonmel Celtic Under 16s clinched the league and cup double with a 3-0 win against Mullinahone in Cahir this afternoon. Goals from Gordon Rossiter ...
Ladies go top
1 June 2017
Two goals by Everena Everard (pictured with coach Jacinta Mullins and Megan Shanahan) and another from Sarah Ryan helped Clonmel Celtic Ladies to a ...
Still doing the business!
31 May 2017
Simon Scully and Craig Condon formed a very solid defensive partnership during a very successful period for Clonmel Celtic that saw the club c ...
Annual Season Review
28 May 2017
Next week, as has become the norm every June, we will begin our review of the season. We will start with our youngest age groups u7-u11 so pay ...