3rd Place Finish for Ladies
20 July 2017
Clonmel Celtic Ladies bounced back from a recent dip in form with two impressive wins in the last week. Last night Dualla came to Clonmel knowing a ...
AGM
14 July 2017
A reminder that Clonmel Celtic's AGM will take place at the club house next Wednesday 19th July at 8pm. All members and supporters are welcome ...
UEFA Regions Cup
11 July 2017
It's been an amazing year for Clonmel Celtic's David Joyce. From making his international debut with the Republic of Ireland amateurs a ...
Season Review (Part 4).
27 June 2017
Our final review of the season looks at our Ladies team and also our off the field activities. As you will be aware it's summer soccer for the ...
Pitch maintenance programme
25 June 2017
Clonmel Celtic has invested a lot over the years in developing a high quality natural playing surface. As a result of this our facilities have been ...
Season Review (Part 3)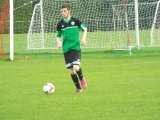 20 June 2017
A top three finish for the eight consecutive season is an impressive level of consistency at Junior level but unfortunately we had no silverware to ...
Joyce collects cap
20 June 2017
Clonmel Celtic's David Joyce collected his international cap at a Republic of Ireland get together at Abbotstown last weekend. The team had t ...
Season Review Part 2
15 June 2017
The Under 12s got the perfect start to competitive football with a 1-0 win away to Peake Villa in the season opener. Unfortunately that was as good ...
Ladies crash!
Clonmel Celtic Ladies recent good run came to a crashing halt as they went down 6-0 away to Shinrone Ladies last night. Without trying to take away ...
15 June 2017
Cup succes for Ladies
10 June 2017
Joint top of the league and in the final of the Shield, Clonmel Celtic Ladies look poised to challenge on three fronts now after a 3-1 win away to ...
TSDL award for Joycie
9 June 2017
The management committee of the TSDL made a presentation to Clonmel Celtic captain David Joyce at their AGM last Tuesday to recognize his amatuer i ...
Season Review Part 1
7 June 2017
It was another enjoyable and successful season in the non competitive age groups (7-11) with a noticeable increase in numbers.
Our Academ ...
Ladies reach final
5 June 2017
Clonmel Celtic Ladies continued their impressive start to the season with a great 4-3 win against Killenaule yesterday that sees them through to th ...
Celtic do the double
3 June 2017
Clonmel Celtic Under 16s clinched the league and cup double with a 3-0 win against Mullinahone in Cahir this afternoon. Goals from Gordon Rossiter ...
Ladies go top
1 June 2017
Two goals by Everena Everard (pictured with coach Jacinta Mullins and Megan Shanahan) and another from Sarah Ryan helped Clonmel Celtic Ladies to a ...
Still doing the business!
31 May 2017
Simon Scully and Craig Condon formed a very solid defensive partnership during a very successful period for Clonmel Celtic that saw the club c ...
Annual Season Review
28 May 2017
Next week, as has become the norm every June, we will begin our review of the season. We will start with our youngest age groups u7-u11 so pay ...